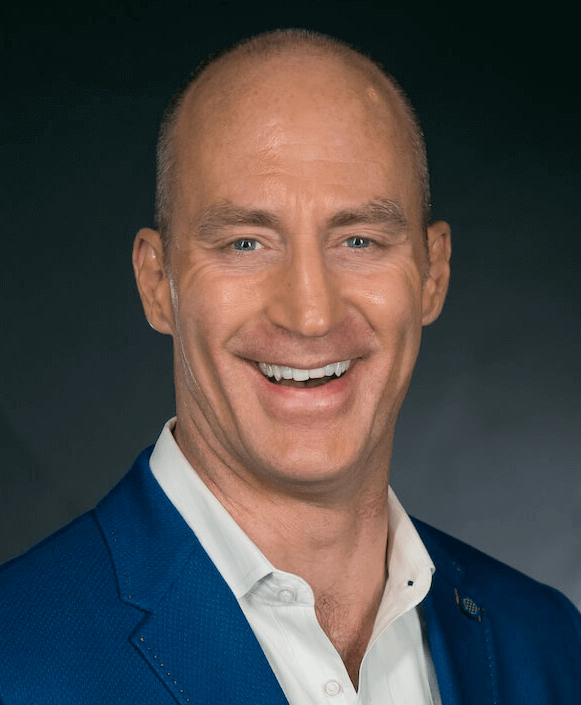 Robert Hotchkin is one of the core leaders of Patricia King Ministries. He is a passionate lover of Jesus Christ and that passion is truly contagious! He ministers with strong faith, releasing revelation, prophetic decrees, healings, miracles, and the love of God. In this month's devotional you will learn that, no matter what you are going through, God wants you to know that He cares, that He has a plan to rescue you, and that He is well able to shift you from "difficult" to destiny.

"You can be sure that I have seen the misery of My people
… I am aware of their suffering. I have come to rescue them…"  – Exodus 3:7-8
God knows everything you are going through. He also knows that when you are in the midst of a difficult season, especially a prolonged one, it can seem like He is not there or that He does not care. But that is not true. God is always with you. You are never alone. You are never forsaken or abandoned. He is always working on your behalf. And He always has a glorious plan to rescue you from the oppressions of the enemy, and bring you into a place of victory and blessing. He always has a way to bring you out of the "difficult" and into your destiny. You begin to make the shift as soon as you choose to trust His love and goodness in the midst of your current circumstances, letting go of any discouragement or despair that may have hardened your heart toward Him.
The Lord will never violate your free will. If you refuse to trust Him and receive from Him, He will not force you to do it. If you have hardened your heart toward Him –choosing not to believe His heart for you because of the difficulties you are facing – it can be difficult to receive from Him. The only thing that can block His love, His promises, and His blessings from your life is … you. That is why He loves to remind you of how much He cares for you and loves you. Nothing softens a hardened heart like love!
Look at how the Lord reached out to Moses in Exodus 3:7-8. The first thing the Lord did was assure Moses that He was aware of everything that the Israelites had been through, and that no matter how it might have seemed or felt for all those years, He had not abandoned them, He cared deeply for them, and He was going to rescue them. Moses chose to believe in the goodness of God. He chose to trust God's love. And that began the process of Moses, and all of the Israelites, being set free – of moving from "difficult" and accelerating into destiny!
Isn't it amazing that it only took one person to believe in the goodness of God to shift things in the lives of the people and the nation of Israel?
Are you going through a difficult time? Does it feel like it may never end? You can begin to shift things today, right now, by looking beyond your circumstances and choosing to believe that God is good, that He cares, that He is with you, and that He will rescue you.  You will not only shift things for yourself but, like Moses, you just might shift things for your entire nation.
No matter what you are going through, God wants you to know that He cares, that He has a plan to rescue you, and that He is well able to shift you from "difficult" to destiny!
Make these simple but powerful decrees over yourself each day this month:
God is Good.
God has good things for me.
God loves me.
God is for me
God is with me
God is working on my behalf
I trust the Lord
And I know that He is shifting me from "difficult" into destiny!
Want More? Then May We Suggest:
GOD OF THE IMPOSSIBLE  – CD from Robert Hotchkin
Are you believing for something so big it seems almost impossible? Do you find yourself in the midst of a mess that seems way bigger than you? Or perhaps you have been waiting (and waiting) on a promise from God that seems like it is never going to happen? If so, you won't want to miss this teaching from Robert Hotchkin. As you listen, you will come to understand that truly all things are possible with God – even the most seemingly improbable or impossible! There is no situation in your finances, your health, your relationships, or your calling that is too big, too difficult, or too delayed for God. He is well able to bring it all forth in impossible ways at impossible times because, truly, He is the God of the Impossible!
BE STRENGTHENED! – CD from Robert Hotchkin
The Lord has an amazing destiny for you – one full of hope, blessing and purpose. The enemy wants to steal that from you through discouragement, frustration, and intimidation. But God is greater, and He is well able to strengthen you and bring you into victory in every area of your life. As you listen to this powerful message from Robert Hotchkin, you will learn why the enemy threatens and intimidates, how to be strengthened in the Lord, how to come into all God has for you, that your victory is certain in Jesus, and much more. Get ready to triumph! Get ready to be empowered! Get ready to BE STRENGTHENED!
EVERLASTING LOVE – Book by Robert Hotchkin and Patricia King
This beautiful hard cover book with a gold-foil stamp is full of the revelation of God's everlasting love. Designed to be a 31-day journey into the depths of God's heart for you, each devotional has space for your personal journaling insights. The Lord's loving arms are extended to you through the pages of this devotional. His desire is to draw you into an intimate embrace each and every day. May you be revived, refreshed and restored as you grow in the revelation of His glorious and eternal love for you.
PERSONAL REVIVAL – 2-CD Set from Robert Hotchkin
Have you ever wondered what God is doing, why He's doing it, or what it's all unto? It may not always feel like it, but God really is up to something in your life. Something big! What you've been through, even what you're going through right now, is all part of it. You haven't missed the boat. You aren't going to be left out. As a matter of fact, God is getting ready to meet the cry of your heart in ways you couldn't even imagine. As you listen to these messages, discouragement will melt away; faith will be stirred; weariness will disappear, and fires will be fueled. You're about to experience a personal revival that will rocket you beyond your circumstances and launch you into the very midst of what God is doing!