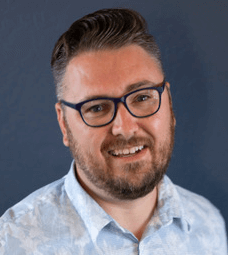 Dustin Williams currently serves as one of the pastors at Shiloh Fellowship. He has been pastoring for the past 20 years in Colorado, Utah, Arizona, in various roles including youth, associate, campus, and media. Dustin & his wife Heather are both ordained through the Assemblies of God and carry a deep passion for reaching the lost and sparking revival.
In January I was seeking the Lord for a word to carry into 2022. We live in such an amazing day in which God can speak through so many voices to help edify His church and to see those who are away from Him saved.
As I listened to the Holy Spirit, I was given a single word, "salt." At first, I thought God was speaking to me about being salt and light in 2022, but the Holy Spirit led me to the story of Lot's wife in Genesis 19:26.
As I began to read this portion of scripture, I heard the Spirit say, "We mustn't look back in 2022."
Lot's wife looked back upon a city that was being judged. But she was also looking back at what she was losing.
These last few years have been hard for so many, and some have lost the lives they've known. At the beginning of the pandemic, I found myself without a church to pastor and without a steady income. We had no other option but to leave the only city and church our family had known for the past 14 years. It was amplified by the pandemic and the life we knew was no more. Over the last few years, unknowingly, I was looking back to what we had lost. I recently saw a t-shirt that said, "Normal isn't coming back, Jesus is," and it lit a fire in me.
I believe that this word is for all of us, because what we had is not what we need. What the Lord has for us this year is provision and safety, so we must keep moving forward and preparing the world for Christ's return. Let me encourage you with this:
Let Go of the Past When you become a follower of Christ, other believers should remind you to let go of the past. Why? Because it's easy to go back to what's familiar. Israel did this for 40 years after being saved from Pharaoh and slavery… They lost sight of the promise for their future and focused on the things that had made them comfortable in the past.It hurts to let go, but sometimes it hurts more to hold on to what you need to let go of.
Don't Turn Back In Luke 17:32-33 (NKJV), Jesus tells us to "Remember Lot's wife. Whoever seeks to save his life will lose it, and whoever loses his life will preserve it." The Lord is bringing the heart of Lot's wife into the Gospel by telling us to remember what happens when we try to save ourselves our own way – we lose. Giving God our all, trusting Him to lead us in His goodness, preserves our lives.
Follow the Path God Laid Before You "Let your eyes look straight ahead; fix your gaze directly before you. Give careful thought to the paths for your feet and be steadfast in all your ways. Do not turn to the right or the left; keep your foot from evil." (Proverbs 4:25-27)Decisions often prove more difficult when we continue to look at what has happened in the past instead of focusing on the new day and where we want to go. It's time to let go of the past so that God can open the door to your future.
Want More? Then May We Suggest:
CATCHING THE THIEF –
PDF download by Patricia King

The thief comes to steal, kill, and destroy. But when he is caught, the thief must pay back at least double what was taken. Part of the wonderful work of the Holy Spirit is to help us identify the areas of our lives where the enemy has come against us and stolen from us. When we know where we have been wounded and wronged, we can stand on the promises of God and the blood of Jesus to reclaim all that was taken and the increased portion in these areas we're now due.
In this manual, Patricia King outlines how to bring inner healing and deliverance to the wounded areas of your life. You will be restored. You will be set free. And you will know fullness as you never have before.
RESURRECTION POWER
–
CD/MP3 download from Robert Hotchkin

Tap into the unlimited transforming power of God All Mighty! In this message, Robert Hotchkin reveals what resurrection power does and how it works. He also shares eight important scriptural keys that will help you step into the place of resurrection power so that you can see it explode in your life ­– accelerating you into breakthroughs and empowering you as a revivalist!
CREATING YOUR GLORIOUS FUTURE
–
CD/MP3 download from Patricia King

God has not called you to a so-so future, or a disappointing future. He has called you to a glorious future filled with all His goodness and blessings! In this two-part teaching, Patricia King reveals how to tap into the truthfulness and faithfulness of God and His Word to create the glorious future He has always intended for you to have. If you have experienced the goodness of God, you will learn to multiply His blessings. And if things have been difficult or disappointing for you, do not despair. When you grab hold of these insights and truths, you will learn to leave the past behind and accelerate into a GLORIOUS FUTURE!