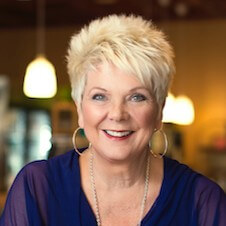 Patricia King Patricia is a respected apostolic and prophetic minister, an inventive entrepreneur, spiritual mentor, and a true mother in the faith. She is committed to loving God, loving people, and advancing the Kingdom through media, missions, events and outreach. Patricia King Ministries promotes the character and nature of Jesus Christ through the in-dwelling grace of Holy Spirit. She believes God's light belongs in the darkness, shining the life and hope of Jesus to those who long to know Him.
This month, with the celebration of our Saviors birth approaching, Patricia encourages us to being intentional in reaching out to the lost.
For the Son of Man has come to seek and to save that which was lost." Luke 19:10
In the month of December, the world's eyes are on the celebration of Christ's birth. It is a time to pray for those who are lost to have their eyes opened to behold the truth regarding the Savior of the world. He is seeking them out in order to save them.
Do you have loved ones who do not yet acknowledge Jesus as their Savior? Perhaps they even mock your faith? These are the ones Jesus is pursuing.
In Matthew 18:12-14, the scripture reveals Jesus' heart to even leave ninety-nine sheep grazing on the hillside in order to pursue the one who had gone astray.
"What do you think? If any man has a hundred sheep,
and one of them has gone astray, does he not leave
the ninety-nine on the mountains and go and search
for the one that is straying?
If it turns out that he finds it, truly I say to you, he
rejoices over it more than over the ninety-nine which
have not gone astray.
So, it is not the will of your Father who is in heaven that
one of these little ones perish."
In this season, I encourage you to be the love of God to those who are perishing. Reach out to those who have lost their way. There are many who have walked away from their faith – God is pursuing them, and He wants to use you! Pray for the Lord to give you a heart for the perishing and then intentionally act on it.
I want to share one of my favorite Christmas songs with you that heralds the good news. Enjoy the unending season of celebrating the Savior's love!
JOY TO THE WORLD
Joy to the world, the Lord is come
Let earth receive her King
Let every heart prepare Him room
And Heaven and nature sing
And Heaven and nature sing
And Heaven, and Heaven, and nature sing
Joy to the World, the Savior reigns!
Let men their songs employ
While fields and floods, rocks, hills and plains
Repeat the sounding joy
Repeat the sounding joy
Repeat, repeat, the sounding joy
Joy to the world, now we sing
Let the earth receive her king
Joy to the world, now we sing
Let the angel voices ring
Joy to the world, now we sing
Let men their songs employ
Joy to the world, now we sing
Repeat the sounding joy
He rules the world with truth and grace
And makes the nations prove
The light of His righteousness
And wonders of His love
And wonders of His love
And wonders of His love
And wonders, wonders, of His love
And wonders, wonders, of His love
Songwriter: Isaac Watts
Joy to the World lyrics © Fred Bock Music Co., Inc
Want More? Then May We Suggest:
ULTIMATE PASSION – MP3 from Patricia King
During a conference, Patricia King was sharing a powerful message on the cross when the Spirit of Prophecy came upon her. She began to not merely teach on the cross, but to prophesy from God's perspective the message of His love for each and every one of us. While this was occurring, Steve Swanson was also flowing in a powerful worship anointing adding sounds from heaven to the unfolding of this amazing revelation. A teaching. A soaking. This can't be categorized, but has to be heard!
EVERLASTING LOVE – Book from Patricia King
This beautiful hard cover book with a gold-foil stamp is overflowing with the revelation of God's everlasting love for you. Designed to be a 31-day devotional, each devotion also has space for you to journal insights as you experience more and more of God's love. 
God loves you with an everlasting love. He did all that he did on the cross so that you might know that love. His arms are extended to you through the pages of this devotional, and His desire is to draw you into an intimate embrace each and every day. May you be revived, refreshed and restored as you grow in the revelation of His glorious and eternal love for you.
31 DECREES OF BLESSINGS FOR YOUR LIFE – Book from Patricia King
THE WORDS WE SPEAK HAVE POWER FOR LIFE.  WHEN YOU PROCLAIM GOD'S WORD IN FAITH, IT IS ACTIVATED TO BRING ABOUT HIS PURPOSE FOR YOUR LIFE.
Isaiah 55:11 declares that God's Word does not return empty but accomplishes everything it is sent to do.  If God said it, He will make it good!
31 Decrees of Blessing for Your Life contains thirty one days of inspirational readings that will turn your attention to the heart of God and His wonderful intentions for your life.  Each devotion is followed by ten powerful decrees for that day's theme — faith-filled words of biblical truth for you to be blessed with love, fruitfulness, friends, wisdom, hope, victory, family, glory, endurance, God's presence, gladness, and more.  Each day includes an activation for you in response to each devotion and decree to seal God's Word in your heart and life.
31 DECREES OF BLESSINGS FOR MEN – Book from Robert Hotchkin
The World Needs Powerful Men of Faith and Integrity! Now more than ever, the world needs good, strong, blessed and anointed Christian men. Robert Hotchkin's book (with a foreword by Dr. Brian Simmons) reveals 31 different powerful gifts Heavenly Father has blessed His sons with.  31 Decrees of Blessing for Men puts the power of God's Word in the hands and mouths of men, equipping them to be the husbands, fathers, brothers, leaders, and servants God created them to be.  It is time for the sons of God to arise, lay hold of the blessings they have in Christ, and become a blessing to the world around them.
31 DECREES OF BLESSINGS FOR WOMEN – Book from Patricia King
Godly women are coming into greater places of influence in the world. The Holy Spirit is using them to prophesy life and send forth light through actions of compassion and justice. 31 Decrees of Blessing for Women is especially designed to motivate women with a daily Scripture, an inspirational devotion, ten decrees, and empowering activations.
THE PASSION TRANSLATION NEW TESTAMENT  – By Brian Simmons

Encounter the heart of God.
BroadStreet Publishing announced the release of the second edition of The Passion Translation's New Testament with Psalms, Proverbs, and Song of Songs in March 2018, which included the following key improvements:
Premium Bible paper with increased thickness and higher opacity.
Matching text lines on both sides of the paper, which gives the page a much cleaner look.
Traditional two-column format with white space between the columns for improved readability. (Footnotes remain in single-column format.)
Translation updates.
Richer, more readable font for greater visibility.