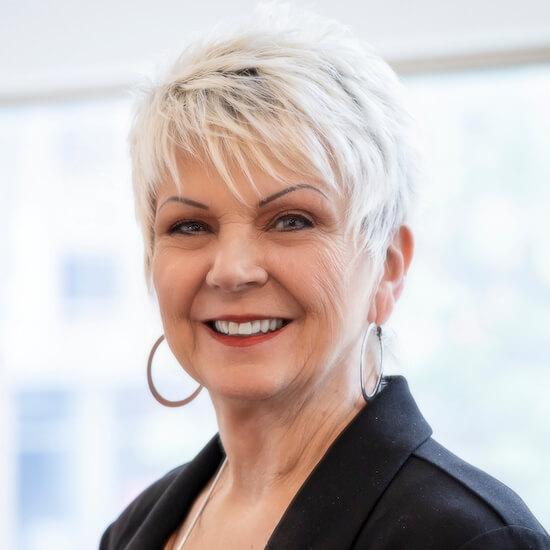 Patricia King is a respected apostolic minister of the gospel, successful business owner, and an inventive entrepreneur. She is an accomplished itinerant speaker, author, television host, media producer, and ministry network overseer who has given her life fully to Jesus Christ and to His Kingdom's advancement in the earth. She is the founder of Patricia King Ministries.

This month, Patricia shares how the words we speak have power for life. When you proclaim God's Word in faith, it is activated to bring about his purpose in your life.
"All these blessings will come upon you and overtake you…"
Deuteronomy 28:2a
Close your eyes for a moment and imagine yourself literally being overtaken by blessings. A great example of this picture is that of a football player being aggressively tackled to the ground from behind. In this way, God wants you to be overtaken by blessings. God is a blessing God, and He wants you blessed beyond measure! You were created to live an extremely blessed life!
Definition of Blessing
: approval that allows or helps you to do something
: help and approval from God
: something that helps you or brings happiness
: a thing conducive to happiness or welfare
: prosperity
: a gift or present
When Jesus came into the earth, He began His ministry by preaching, "Repent, for the kingdom of heaven is at hand" (Matthew 3:2). The kingdom of heaven is a realm and dimension of blessing, and its atmosphere is love. The Bible teaches much about heaven. It is beautiful and glorious, full of God's presence, angelic activity, joy, and it is absent of pain, sorrow, lack, sickness, and death.
It is God's desire that in and through Christ, we live in this dimension of blessing while on the earth. Jesus taught us to pray in this way: "Your kingdom come. Your will be done, on earth as it is in heaven" (Matthew 6:10).
Before the fall, mankind lived in the fullness of the blessing of God on the earth. It was God's desire for His creation to be blessed, and that is why His first decree over mankind was: "And God blessed them…" (Genesis 1:27).
Throughout the old and new testaments, we see God's full commitment to blessing His people. He blessed Abraham and declared that he would be blessed so that he could be a blessing. We see Him directing His priests to invoke blessing upon the people. He called the children of Israel to live in the blessings while journeying with Him in the wilderness. He declared over New Testament believers that they were blessed with every spiritual blessing in the heavenly places and with everything pertaining to life and godliness. He truly is a blessing God and desires to shower you with blessings so that you will flourish in every area of your life. Jesus came that you would have life in its abundance. Enter the blessing realm and expect blessings to come upon you and overtake you today and all the days of your life.
10 Decrees of Blessing Over Your Life
I decree that:
I am created for blessing and as a result, I am overtaken by blessings in every area of my life.
I am blessed in the city and blessed in the country. I am blessed coming in and blessed going out.
Everything I put my hand to is blessed. My family is blessed. My provision is blessed. All that pertains to me is blessed.
I am blessed with victory in every challenge or obstacle I face, for I am the head and not the tail. I am above and not beneath.
The Lord has blessed me so that I will be a blessing to others. I cheerfully and bountifully sow blessings into the lives of others and, therefore, I reap blessings bountifully.
The Lord blesses me and keeps me. He makes His face to shine upon me and is gracious to me. He lifts up His countenance upon me and gives me peace.
I am blessed with every spiritual blessing in the heavenly places in Christ and in Him have been granted everything that pertains to life and godliness.
Grace and peace have been multiplied to me, and I have been granted the blessings of all of God's magnificent and glorious promises in Christ Jesus.
It is written what God has blessed no man can curse; therefore, I am blessed in the Lord and cannot be cursed.
I am blessed far above all I'm able to ask, think, or imagine!
Decrees based on the following scriptures: Genesis 1:28; Deuteronomy 28:1-13; Genesis 12:2; 2 Corinthians 9:6,7; Numbers 6:22-26; Ephesians 1:3; 2 Peter 1:2-4; Numbers 23:20, Ephesians 3:20.
Devotion from 31 Decrees of Blessing for Your Life, by Patricia King
Want More? Then May We Suggest:
31 DECREES OF BLESSING OVER YOUR LIFE – Book from Patricia King

Isaiah 55:11 declares that God's Word does not return empty but accomplishes everything it is sent to do. If God said it, He will make it good!
31 Decrees of Blessing for Your Life contains thirty one days of inspirational readings that will turn your attention to the heart of God and His wonderful intentions for your life. Each devotion is followed by ten powerful decrees for that day's theme — faith-filled words of biblical truth for you to be blessed with love, fruitfulness, friends, wisdom, hope, victory, family, glory, endurance, God's presence, gladness, and more. Each day includes an activation for you in response to each devotion and decree to seal God's Word in your heart and life.
Experience multiplication of blessings for your life and watch transformation take place as you daily give Jesus your focus and decree His Word.
BLESSED TO BLESS – Book from Patricia King

When God promised Patricia King that He would bring benefactors to help with ministry assignments, she answered, "God, I am thankful beyond words…but I want to BE a benefactor!" The Lord responded, "I shall both make you a benefactor and send you benefactors."
God wants to do this for all His people! He wants you to have benefactors in your life, but more importantly, He wants to make you a benefactor. Blessed to Bless offers sound principles on how to experience blessing in your own life in greater measure, then take ownership of your benefactor calling to bless others.
THE COMMANDED BLESSING – MP3 teaching from Robert Hotchkin

There is blessing, and then there is the COMMANDED BLESSING. When God commands His blessing into your life, the enemy has no ability to prevent it. It is released from the All Mighty Himself, and it comes forth with the same authority and certainty as when He commanded, "Let there be light!"
As you listen to this message, you'll discover how to receive the commanded blessing of God until you are overflowing with His copious goodness and lack for nothing. Catch the revelation of God's Commanded Blessing, and receive all the Lord has for you.