July 2015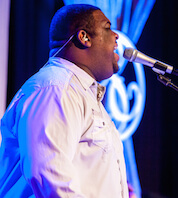 Jonathan Williams is the Director of Worship for XP Shiloh. He has been leading worship for over 20 years in many different denominations & church atmospheres. He formally directed The School of Worship at Teen Mania Ministries where he trained and raised up over 200 worship leaders & musicians. His heart is to see musicians & worship leaders trained to become excellent at their craft to offer God the best possible offering of music. Worship is a lifestyle but we get to use music as an avenue to express our love to the most creative being in the universe, God. This month Jonathan shares how you can remain in His presence and be a worshipper in the midst of your day-to-day business.
I was raised in the small town of Greenville, Texas – just 60 miles east of Dallas. My family life wasn't the greatest, as my mom was a single mom addicted to drugs with an abusive boyfriend. Being a musician and worship leader from the age of ten, I found that church literally became my place of refuge. In my heart I had committed to loving Jesus with everything inside me, and taking care of my family when I grew up was the best way I knew how to – with God's help.
Fast-forward twenty years. I've been reflecting on my daily schedule with a family of five, a full time job, and serving as the worship director for our church. I've often wondered: How does a worshipper remain a worshipper in the midst of a busy life?
This is something that has actually become easier and easier for me to answer over the years. Deuteronomy 10:8 says,
"At that time the Lord set apart the tribe of Levi to carry the ark of the covenant of the Lord, to stand before the Lord to minister and to pronounce blessings in his name, as they still do today."
According to this, the Levites were commissioned with three things, and so are we today:
1) Carry the Presence of God
We as New Testament believers have the awesome privilege of carrying the Spirit of God inside of us at all times. We live, move, and have our being through His life in us.
2) Minister to the Lord
We get to minister to, or another word we could use is to serve, the Lord all of our days. Whatever He asks us to do, we are willing to lay down our lives for His purposes.
3) Bless the People
This is the third commission that we see in this passage of Scripture. Whether you get to serve God through preaching in a pulpit, serving on a team at your local church, or blessing your family at home, it's all a part of being a worshipper of Jesus.
As we realize that God's presence is with us all the time, it gives us assurance that we can be doing our "normal" work during the day but still be full of His Spirit, and our spirit will respond to Him with worship – proclaiming His worth!
As you go about your day, remember that you can remain in His presence and be a worshipper in the midst of your day-to-day business.
Prayer Directives
So let's pray this month that:

We will love the Lord with all our hearts, minds, souls and strength. (Luke 10:27)
In the midst of our busy schedule, we will keep our mind focused on Him. (Isaiah 26:3)
We will keep our eyes focused on the One who is worthy. (Psalm 16:8)
Whatever we do this month, we will do it unto God's glory as true worshippers. (1 Corinthians 10:31)
We will be aware that we carry His presence in us, and are always merely a decision away from releasing Him through us to reach out and impact the world ar­ound us. (Acts 10:38)
Want more? May we suggest:
  Atmosphere of Heaven – A Live Worship CD by Jonathan Williams

"Atmosphere of Heaven is a LIVE Worship album recorded at Joan Hunter Ministries in Houston, Texas. This album will encourage you in your admiration of Jesus as well as draw you into His inner courts. You will experience the pure heart of worship captured LIVE.
Singer and songwriter Jonathan Williams leads the worship team and all gathered to worship the Creator of the universe face to face. Not only can you use this album for your own personal worship time, but it can also be used for corporate times of worship as well.
  Worship the King Devotional – by Various Authors

Worship. That intimate, face-to-face encounter with our most wonderful God, where we lavish our love upon Him… hear His heart… and simply, BEHOLD. Worship the King is a book compiled by authors who know what it is to have their hearts entwined with His in the intimacy of worship. Come; respond to the calling of the deep and share the mysteries in this secret place… Worship the King.
We at XP Ministries thank you for your prayers, partnership, and financial support. May you be richly and abundantly blessed. And remember, God loves you with an everlasting love!