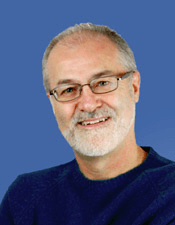 Dr. James W. Goll is the President of Encounters Network, the International Director of Prayer Storm, and the Founder of God Encounters Training – an eSchool of the Heart. He is an internationally respected prophetic voice, a prolific author, and an insightful teacher and preacher. Read on as James shares keys to practice being in His presence.
At the Last Supper, seated in a place of intimacy with His disciples, Jesus told His precious friends that in His Father's house were all kind of places to live and that He was going to prepare a special place for them. Confused and not having a clue as to what Jesus was talking about, Thomas responded, "Lord, we do not know where You are going, how do we know the way?" (John 14:2, 5)
How do we know the way? Regrettably, there are many who have not found the way. Instead, they have taken alternate routes that will never get them to the place of His Presence. More content and comfortable with life in the outer court, many have given themselves to the hustle and bustle of much external obligations. Sadly, they have become lost in a labyrinth of frenetic activity, thinking that this will move them closer to the place they so long to experience.
Proceeding Into His Presence
How do we know the way? Fortunately, there have been footprints left for us to follow—footprints of guides from another time who have gone before us and found the way. Brother Lawrence left behind one of the greatest guidebooks for those who desire this journey; he is one of the pioneers in church history that can help us to discover The Art of Practicing His Presence.
Brother Lawrence was not a famous preacher or leader of some religious movement. Most of the time he was found in the kitchen washing pots and pans. He discovered the pathway into the presence of God that allowed him to enjoy His presence at all times.
This practice of the Presence of GOD is somewhat hard at the outset. Yet, pursued faithfully, it works imperceptibly within the Soul most marvelous effects. It draws down GOD'S grace abundantly, and leads the Soul insensibly to the ever present vision of GOD, loving and beloved, which is the most spiritual and most real, the most free and most life giving manner of prayer."
If you continue on this seemingly mystical road, you will find others who have hungered for a deeper place of intimacy with God. Let's take a few more steps together.
The Road to True Intimacy
Can you imagine what it must have been like to know Jesus in the flesh, to walk with Him, talk with Him, and see His face on a daily basis as His disciples did? How did it feel to watch Him heal a blind man with mud made from dirt and spit, or cleanse a leper with a gentle touch, or raise the dead with a word of command? What was it like to live with Him day in and day out?
How did it feel to sit at His feet and hear the greatest truth and wisdom ever spoken by human lips? What was it like to recline at a table with Jesus when He said, "This is My body which is given for you…This cup which is poured out for you is the new covenant in My blood"? How did it feel to love Him—and then watch Him die?
Leaning on the Breast of Jesus
Only a very few people were privileged to know Jesus on such personal and intimate terms as these. John was one of them. This "beloved" apostle, along with his brother James and Simon Peter, comprised the "inner circle" of Jesus' closest friends. In the Gospel and the Epistles, John himself hinted at the intimacy of his relationship with Jesus. During the Last Supper, "There was reclining on Jesus' bosom one of His disciples, whom Jesus loved." Bible scholars generally agree that John is referring to himself. "Reclining on Jesus' bosom" is a beautiful description of intimacy in friendship and fellowship! Four other times in his Gospel John refers to himself as the "disciple whom Jesus loved."
John also opens his first Epistle with a reference to his firsthand knowledge of Jesus.
What was from the beginning, what we have heard, what we have seen with our eyes, what we have looked at and touched with our hands, concerning the Word of Life…what we have seen and heard we proclaim to you also, so that you too may have fellowship with us; and indeed our fellowship is with the Father, and with His Son Jesus Christ.
These are the words of a man who knew Jesus intimately and personally. John speaks of Jesus as One whom he had heard with his own ears, seen with his own eyes, and touched with his own hands. As a result, John enjoys fellowship with the Father, and with His Son Jesus Christ, and he wants his readers (including us) to enjoy that same fellowship!
How do we enjoy intimate fellowship with Jesus today, the One who is no longer physically present? Part of the Holy Spirit's role in our lives is to bring us into deeper fellowship with Christ. In order for that to happen, we must first learn to worship the Lord with abandonment, calm our own soul and give Him our full attention
We Can Learn These Ways!
An atmosphere of worship that includes quietness or soaking, as it is often referred to today, is essential for us to experience deep, loving communion with our Lord. David the psalmist wrote, "My soul waits in silence for God only." The prophet Habakkuk proclaimed, "But the Lord is in His holy temple. Let all the earth be silent before Him." When Elijah listened for the counsel of God, he heard the Lord not in the wind, the earthquake, or the fire, but in "a still small voice." In the 46th psalm the Lord calls on us to "Be still, and know that I am God."
This "knowing" goes far beyond mere informational knowledge. To "know" God in this sense means to have His Spirit infilling us, His breath inspiring us, and His heart invigorating us. "Knowing" God means to be brought into vital, personal union with Jesus Christ our Lord.
That's the kind of intimacy He seeks with us. Entering into this amazing realm requires a heart truly engaged in pure worship with an expectancy that He wants to express His love for us.
I have Good News for you. The Holy Spirit is a great tutor and He will teach us to how to truly worship the Lord in the beauty of holiness and to listen to the "still small voice" of God. I love the ways of God! Just push pause for a while, worship Him, hang out with Him, and you will get to know Him as He knows you!
Prayer Directives
Let's pray and declare that:
Each of us in the church will come into the special place He has prepared for us, dwelling in the richness of His presence all of our days.
We will respond to the deep-unto-deep invitation from the Lord to be a part of the "inner circle" of His heart, knowing that we are the beloved of God and that every moment He is with us and we with Him.
Holy Spirit will mentor and grow us in the art of practicing the presence of God and help us come into true intimacy and deep relationship with the Lover of our Soul.
We will hear Jesus with our own ears, see Him with our own eyes, and walk with Him as closely and intimately as John the Beloved did.
The church will be stirred with a renewed passion for deep fellowship with the Father, Son and Holy Spirit.
Grace, grace, grace for us all to quiet the storms of our souls in difficult times so that we might press into His presence, and be brought into the reality of vital, personal union with Christ.
We will increase in our ability to hear His still, small voice and feel His guiding touch at all times.
His Spirit fills us, His breath inspires us, and His heart invigorates us.
THE LOST ART OF PRACTICING HIS PRESENCE – by James W/ Goll
Your heart has been created for the Presence of God and it is not complete without His Presence living within. Naysayers try to convince you that God's Presence is elusive and subjective but their voice is silenced by the desire yearning from within for a union with your Lord and Creator, Jesus Christ. As a credible response for those who want to fill that inner void with His perfect union, The Lost Art of Practicing His Presence was written. Author James Goll's own journey into God's Presence has brought him face-to-face with angels and the Lord. James has heard God's voice and has moved in His Presence for many years, carefully recording what he now shares with you.
Joyfully discover how the Lord covets union with you as much as you seek His Presence.
PASSIONATE PURSUIT – A book by James W. Goll
"You were created with an internal void that only God Himself can fill."
"The depth of your hunger for God is the length of your reach to Him."
"You can be as close to God as you want to be."
Many of us have heard these statements – or similar ones. Are they mere clichés? Or do they point to a truth that is so profound it should be the main focus of our life? The mighty God of the universe is also your heavenly Father who loves you deeply. He understands you inside and out, and He desires for you to know Him personally, too. Author James W. Goll joyfully guides you past the cliché's and into the spiritual reality of knowing God's heart through an intentional, ongoing relationship with Him.
Passionate Pursuit shows you how to open your heart to encounter the living Lord. As your discovery of God unfolds, and your relationship with Him deepens, you will be surprised and delighted to hear His voice, to learn from Him – and to touch His heart. You will be filled with the life of God, and you will always desire to come back for more. In the process, you will gradually be transformed to become like Him and to reflect His image to others.
WHAT LOVE LOOKS LIKE – A Book by James W. Goll
In this one-of-a-kind compilation, 12 respected leaders share their stories of moments when the agape love of God broke into their darkest moments. –and you'll begin to believe that it's possible to show a hungry world the kind of love the Bible promises.
If you're feeling worn out, wondering if God can really pour out His love through you–read this book. These remarkable stories will inspire you to become an outlet of love. And not just any love. The beautiful agape love through which Jesus is changing the world.