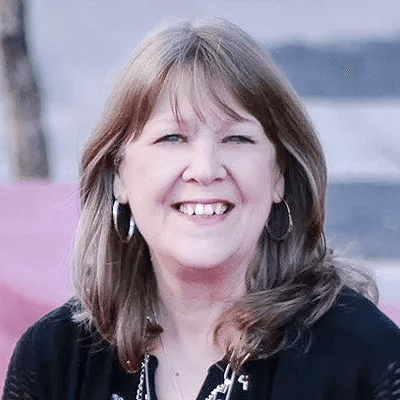 Jane Watrich is the Director of Christian Services Association, an equipping ministry, training in prayer, spiritual gifts and evangelism, serving in Canada and beyond.  She is also on the pastoral team with Shiloh Fellowship, an international online congregation. Jane has been in active ministry for over 35 years, including ministry to children, youth, women, seniors, home groups, churches, prayer ministry and missions. People enjoy her friendly and personal style of training and encouragement. She is married and currently lives in Saskatchewan with her husband and son. This month, Jane shares how to practice intentional thanksgiving daily in your life, especially in the areas you want to see breakthrough.
One of my favorite things is hearing testimonies of supernatural encounters and provision. Nothing increases my joy and faith more than reading the great acts of God through His Word and through modern stories of both old and modern saints, and hearing testimonies of the supernatural provisions of God in our everyday lives. It opens up a thankfulness in my heart for the goodness of God. It opens up praise in my heart for how great He is and how available He is to do mighty acts in our own lives today.
Over the past decade there has been an increasing awareness, even in secular psychology, of how thankfulness creates a realm of blessing and contentment in one's life. It's a principle of God's truth that works for everyone. But when we, as believers, connect our thanksgiving to our Heavenly Father, the Almighty God, all of heaven opens to us.
Thanksgiving is the key that unlatches the gate to God's glory presence. Psalm 100 calls us to "Enter His gates with thanksgiving." Being thankful opens the latch of the gate to all that God is. It opens our spiritual senses to taste and see that the Lord is good! Thanksgiving opens our hearts to see God and to praise Him for who He is and for His goodness.
In Acts 16:25-34, we see Paul and Silas in prison, praising God at midnight, and the gates they opened in heaven released miracles that unlatched their cells on earth.
In everything give thanks for this is the will of God.
As you develop an attitude of thankfulness, portals of provision open up for you. God meets all of our needs according to HIS riches in glory. Sometimes we get a seed of what we need. It might seem small and insignificant, but within a seed is the potential for the whole manifestation. In an apple seed is an apple tree. In an acorn is an oak tree. As we celebrate and thank God for the seed of His provision, the seed begins to grow into the fullness of all we need. We often see this in healing. As we pray for healing, sometimes we might only see a 5% improvement. As we thank God and celebrate His goodness for the 5%, we can see the 5% increase to 10% and keep growing into full healing as it is watered with praise, thankfulness and expectation of God's goodness.
We can see this principle at work for spiritual or financial needs as well. I often help people receive financial breakthroughs by suggesting they keep a "blessing journal." Every day in their "blessing journal" they write all the things they have given to others that day. It could be anything, such as an act of kindness or a cup of coffee or a financial gift. Whatever it is, they record the giving (sowing) on a page in their journal. Then they also list all the blessings they received that day. It might be a dime found on the ground. It might be a paycheck. It might be a discount on something they were planning to buy. Maybe it is extra time they got, a job interview, or someone doing the dishes for them. Nothing is too small or seemingly insignificant to write in the journal.
At the end of each day, they give thanks to God for all the things they received that day. They thank Him for all the things they gave and sowed into others that day. And they thank Him for the harvest to come to them from that giving.
I encourage them to record in their journals daily for up to two or three months. It is usually well before the three months are up that they see financial breakthroughs in their lives.
Learn to practice intentional thanksgiving daily in your life, especially for the areas you want to see breakthrough in. It is incredible to see the portals of God's glory presence, depths of His fellowship, miracles, favor, and provision that being thankful daily opens up for you!
Every day, enter God's gates with thanksgiving, enter His courts with praise. Come boldly before His throne of grace and enjoy His presence, dance in His glory, and let the portal of His glory release His kingdom to come, His will to be done in your life as it is in heaven.
Make these simple but powerful decrees over yourself each day this month:
Every day I will praise You and give You thanks for Your mercy and goodness to me.
Thank You that You care about my life and You meet all of my needs according to Your riches in glory through Jesus Christ.
Thank You that every day You look after me and bless me in both big ways and small ways.
Thank You, Lord, that You are working all things together for my good because I love You and I am called to Your purpose.
I bless You Lord and thank You for all Your wonderful benefits; for forgiving me of all my sins, for making me strong when I am weak, for healing me, and for satisfying my desires for love, for favor, for wisdom, and for peace.
Thank You for Your joy today! Thank You for Your peace today!
This day and every day I am filled to overflowing, and surrounded overwhelmingly with the love of God!
Thank You for Your presence with me and for the open portals of glory. Thank You for the spirit of revelation and truth as I read Your Word and encounter Your kingdom activity in my life.
Want More? Then May We Suggest:
BLESSED TO BLESS – Book by Patricia King
God wants to bless you beyond anything you can possibly imagine. He wants to bless you so radically that you are overflowing with blessing and you become a blessing to others. In Patricia's new book, she shares how you can step into this "benefactor anointing" and see a rich increase of blessing in your life.
IMMANUEL – Video Series from Robert Hotchkin
God wants relationship with you…deep, personal, intimate relationship that's filled with encounter, experience, connection and power. Giving your heart to Jesus as Savior is the beautiful beginning of what God desires to be an ever-deepening, ever-increasing, ever-expanding, powerful and power-filled relationship. This is the promise of Immanuel – God with you!
31 DECREES OF BLESSING FOR YOUR LIFE – Book by Patricia King
These daily inspirational readings turn your attention to the heart of God and His wonderful intentions for your life. Each devotional is followed by ten powerful decrees and an activation to help multiply the manifestation of God's goodness in your life. Experience multiplication of blessings and watch transformation take place as you daily give Jesus your focus and decree His Word.