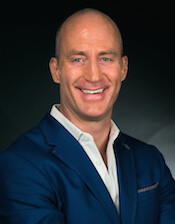 Robert Hotchkin ministers with Patricia King and XP Ministries. He is a passionate lover of Jesus Christ and that passion is truly contagious! He ministers with strong faith, releasing revelation, prophetic decrees, healings, miracles, and the love of God. This month Robert shares how a prophetic revival is brewing. The Lord is accelerating His people in the prophetic, and with that we will see an increase in anointing and authority marked by more and more of the Body prophesying with a greater detail of accuracy and an increase of impact (Acts 2:18).
A prophetic revival is brewing. The Lord is accelerating His people in the prophetic, and with that we will see an increase in anointing and authority marked by more and more of the Body prophesying with a greater detail of accuracy and an increase of impact (Acts 2:18). This prophetic revival in the Body of Christ will not only strengthen and refresh the church (1 Corinthians 14:4) but will also carry the Heart of the Savior to the lost in profound and powerful ways, leading many to repentance and launching a great wave of salvations as those trapped in darkness see His light through prophetic words spoken from the abundance of His heart (1 Corinthians 14:24-25, Luke 6:45). This move will be marked by a deeper and truer understanding of what New Testament prophecy truly is.
Life-Giving Truth Full of Grace
As a prophetic voice serving with a prophetic ministry, I am often asked about the difference between Old Testament prophecy and New Testament prophecy. I have heard academic discussions on this topic, read some theological papers, and had some good conversations about this with other believers, ministers and prophets. After ruminating on this for years, for me it really boils down to this: Old Testament prophecy is typified by the prophets proclaiming, "Thus says the Lord" (e.g., Jeremiah 2:2), whereas New Testament prophecy is typified by Jesus saying, "Truly, truly, I say to you" (John 5:24). What I mean by this is that in the Old Testament the prophets were declaring God's message regarding the need to turn from wickedness and return to Him (ultimately, of course, through the coming of Messiah). In the New Testament, it was God as Jesus in our midst revealing who He is and all He makes available to us when we choose to walk with Him. Old Testament prophecy was about the coming judgment of God and the need to get right. New Testament prophecy reveals the One who walks in our midst to make us right. Both spoke truth. Both are important messages. But remember, Jesus came and fulfilled the Law and the (Old Testament) Prophets (Matthew 5:17). That doesn't mean the Law no longer applies, or is unimportant. It means that in Him we now have the ability to live righteously through His mercy and by His grace. As a prophetic minister, I am convinced that New Testament prophecy must still point to the need for Messiah, but even more it must typify Him, express Him, and present Him – His truth, yes, always His life-giving truth – but that truth wrapped in mercy, full of grace and overflowing with love, forgiveness and kindness.
An Invitation to Be Lifted Up
When Jesus said, "Repent, for the Kingdom of Heaven is at hand" (Matthew 4:17), it was not a message of judgment and condemnation – it was anything but a statement of disappointed dismissal by an angry God outraged at the blatant shortcomings of man. "Repent, for the Kingdom of Heaven is at hand" was, is, and always will be a presentation of opportunity through love and forgiveness that reaches out to everyone, offering a new way of thinking and being so that righteousness can no longer be mistaken as something we have to do in the hopes of getting God to like us, but is something we are empowered by God to walk out because He is so in love with us.
Jesus invites us all to come up higher in righteousness, purity, morality, love, kindness, patience, joy and compassion (Matthew 5, 6 and 7), but He doesn't leave it at that. It is more than an invitation to do good or be better. He is well aware that on our own we are not capable of coming up higher. That's why He didn't leave us on our own. That's why He came into the earth. That's why He proclaimed everywhere He went, and to all that He met, "Repent, for the Kingdom of Heaven is at hand." That "hand" is His nail-scarred hand. It still reaches out. It still lifts up. It still invites us to grab hold of Him and be empowered by Him to live in righteousness, peace and joy in the Holy Spirit (Romans 14:17). New Testament prophecy communicates this opportunity by expressing truth in love, conviction in mercy, correction in compassion, and transformation in hope – not condemnation in disapproval, or punishment in disappointment.
Plugging into the Heart of Prophecy
The spirit of prophecy is the testimony of Jesus (Revelation 19:10). I believe what that means is that New Testament prophecy must "testify" of Jesus. It must show forth and put on display the One who saves because He loves, the One who proffers mercy over judgment, all while empowering transformation unto righteousness. The Apostle Paul understood this when he told the church at Corinth that the purpose of prophecy was to exhort, edify and encourage others (1 Corinthians 14:3). This is what Jesus did when He walked the earth bringing forth the New Testament, and it is what His New Testament prophets are to be doing today. To be a true word of the Lord, New Testament prophecy should not only aspire to being accurate but must also present the character and nature of Jesus – His love, light, life, presence, power and personality – in a similar manner to how Jesus presented the Father when He was here in the earth.
Oh Jesus! How grateful we are for what you have done, and even more for what you are like. Empower us as the Body of Christ today to accurately prophesy in a way that testifies of You – sharing Your heart, hope, truth and love with all we encounter. Help us, Lord, always speak prophetic words that are spirit and life (John 6:63).
Prayer Directives
Let's pray and declare that:
1.  There will be a prophetic revival in the Body of Christ where we speak Truth in Love, and see His saving, healing, transforming power manifest in our midst just as it did when Jesus walked the earth and declared, "Repent, for the Kingdom of Heaven is at hand" (Matthew 4:17; 10:7-8).
2.  The words we speak will be spirit and life – exhorting, edifying and encouraging people to walk in the fullness of all Jesus has given them (John 6:63, 1 Corinthians 14:3).
3.   We will plug into the heart of the Father, and from the abundance of that heart our mouths will speak words that present the Son in the power of the Holy Spirit (Luke 6:45).
4.   The prophetic will continue to be taken outside the walls of the church and we will see an increase of prophetic evangelism that bears witness of the Savior to those who so desperately need Him. The light of His word will shine brightly in the darkest places, shattering chaos and confusion so that all may know Him (Genesis 1:2-4).
5.  All the church will be strengthened, revived and refreshed by the prophetic and then move in that same prophetic power outside of the church (1 Corinthians 14:31, 24-25).[
6. As the church testifies of Jesus through the gift of prophesy, the knowledge of the glorious goodness of the Lord will cover the earth, igniting a move of repentance and a revival of righteousness (Isaiah 11:9).
Engaging with God – CD from Robert Hotchkin
You are God's beloved child, and there is nothing He wants more than to draw you into the fullness of His love, and engage you in a lifestyle of never-ending intimacy. Truly knowing the Lord in this place of deep communion is the key to living a Kingdom life. That is why the devil works so hard to whisper lies to you that would keep you from fully engaging with God. But in this message, Robert Hotchkin exposes the lies of the enemy that separate us from God, and reveals how simple it is to fully respond to the Lord's invitation to know Him intimately and engage with Him powerfully. Don't spend another moment feeling separated from the Lord. Begin engaging with God today!
You are God's Plan for the Hour – A CD teaching from Robert Hotchkin
The church is longing for God to bring revival. God is longing for His people to realize that He already has – through the finished work of the cross. He wants us to step out and use the authority He has given us to release revival everywhere we go. As you listen to this stirring message from Robert Hotchkin, you will come to understand what revival really is, how to step into the works Jesus did, how to overcome power and principalities in your region, and much more!
The Power of His Love – CD from Robert Hotchkin
There is a power that comes from knowing the Father's love for us. When we are truly rooted and grounded in a deep revelation of His love, we begin to flow in the same unlimited anointing that Jesus did when He walked the earth. Healings happen. Deliverances happen. Miracles happen. The Kingdom happens. And it's easy. In this message, Robert Hotchkin shares aspects of his testimony along with revelation from Scripture that will release you into a new experience of God's love for you, and a new ability to allow His love to flow through you and impact the world around you.
Prophetic Bootcamp – CD Set and Manual from Robert Hotchkin and Patricia King
This is the prophetic made simple. In these lessons, Robert Hotchkin and Patricia King dig into Scripture and pull from years of experience to help you grow in your ability to hear the Lord's voice and connect with His prophetic flow. You'll discover the different ways the Lord speaks and the main ways you tend to receive from Him. You'll learn to recognize His voice and receive words of knowledge, encouragement and destiny for yourself and others, all while growing in intimacy with the Lord and awareness of Holy Spirit. The study manual contains all the scriptural references for the school plus pages and pages of activations so that you can put into practice all that you learn!