September 2015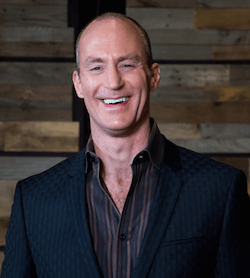 Robert Hotchkin ministers with Patricia King and XP Ministries. He is a passionate lover of Jesus Christ and that passion is truly contagious! He ministers with strong faith, releasing revelation, prophetic decrees, healings, miracles, and the love of God. This month Robert releases the LOVE, LIGHT and LIFE of the Lord to revive, refresh, renew, refocus, heal, strengthen and empower you for all you are called to.
God is moving. He is doing a work in the hearts, minds, and souls of His beloved saints who are willing to embrace His call to come up higher, allowing the deep work of removing stumbling blocks that have limited us in the past. It is good. But the resistance in the Spirit that often comes with it – the enemy pushing back, pushing buttons, pushing to keep us locked up in old limitations – can be wearying at times. However, God has an answer.
I recently had a series of encounters with the Lord where He took me to the River of Life flowing from His throne (Revelation 22:1) and "baptized" me. Each time, as He held me under the water, it was so clear, vivid, and "effervescent." The waters of LIFE filled, coursed through, and flowed all around me. As Jesus cradled me under the river, I could look up from below the crystal waters and see Him clearly. He appeared very much like He must have when He walked the earth – a dark-haired, bearded man in a long robe. He was also on the throne as the slain Lamb whose blood was flowing into the river, feeding the pure crystal waters with abundance of LIFE (1 John 5:6, Leviticus 17:11, John 10:10). In the most recent encounter, as I looked up at Him from under the water I saw His face above me again, but this time His whole head was glowing white like the sun (Revelation 1:16, Matthew 17:2), soaking me in pure light.
Since I have been back from a recent overseas ministry tour, I have wrestled with the after-effects of jet lag, severe fatigue and brain-fog. I have also been feeling an intense "pressure" in the Spirit as I commit myself to being drawn up higher by the love of God into greater expressions of His character and nature. At moments there is a great grace that makes it an effortless flow. At other times it feels like trying to push warm butter through a cement block as all hell and my old carnal nature resist the call to "Come Up Here!" But each of my recent encounters with the Lord has worked to refresh, strengthen, and empower me to where I know I can answer the call and see victory in all areas.
Matthew 10:8 promises that we can freely give what we have freely received. So … In the mighty name of Jesus Christ I release to everyone reading this the LOVE, LIGHT and LIFE of the Lord to revive, refresh, renew, refocus, heal, strengthen and empower you for all you are called to. I command every bit of weariness, fatigue, exhaustion, fear, doubt, and discouragement to be washed away by the living waters of Holy Spirit. I speak to your bodies and souls. I speak to your bones, muscles, sinews and nerves. I speak to your organs and glands. I speak to your hearts, livers, and lungs. I speak to your immune systems and brain functions. I speak to your hormone levels, body and brain chemistries. And I say be healed, be refreshed, be revived, be renewed, be strengthened. Receive the abundance of LIFE and LIGHT, in Jesus' name! Amen
Prayer Directives
Let's pray that:

The Body of Christ will be refreshed, renewed, and revived even as the pure river flowing from the Throne of God courses into each of us bringing life, vigor, and vitality.
The living water of Holy Spirit that is in every believer will spring up and flow afresh (John 4:14). That anywhere the enemy has managed to plug up or block those wells, Holy Spirit will come and re-dig them, bringing forth an even greater abundance of life, love, and light.
Everywhere the thief has come to steal, kill, destroy, limit, hinder, or interfere in any way, Jesus has come and given us the abundance of life (John 10:10). Pray that we will all receive this abundance and flourish.
The very same Spirit that raised Jesus from the dead lives in each of us and quickens our mortal bodies (Romans 8:11).
We will prosper and be in health as our souls prosper (3 John 1:2).
Resources
Want more? May we suggest:
 Breakthrough – A Soaking and Ministry CD from Robert Hotchkin

When Robert Hotchkin was ministering, the presence of God began to manifest, hover, and move. As Holy Spirit filled the atmosphere, Robert began to flow in a prophetic anointing and making powerful decrees that began to break bondages and oppressions of every kind. Weariness, fear, discouragement, depression, heaviness, limitations, and hindrances were shattered as the Lord of Breakthrough went about healing, reviving, and refreshing everyone in attendance. People were healed, delivered, set free, and empowered. We were able to capture this move of God, and now it is available for you to soak in and be ministered to. Be encouraged, breakthrough is here!
Personal Revival – A 2-CD teaching set from Robert Hotchkin
Have you ever wondered what God is doing, why He's doing it, or what it's all unto? It may not always feel like it, but God really is up to something in your life – something big! What you've been through, even what you're going through right now, is all part of it. You haven't missed the boat. You aren't going to be left out. As a matter of fact, God is getting ready to meet the cry of your heart in ways you couldn't even imagine. As you listen to these messages, discouragement will melt away; faith will be stirred; and weariness will disappear. You're about to experience a personal revival that will rocket you beyond your circumstances and launch you into the very midst of what God is doing!
More! – A CD teaching from Robert Hotchkin
Have you been crying out for more of God? More of His presence? More revelation? More of His power? More of His Kingdom coming? More love? More miracles? More signs and wonders? In this message, Robert Hotchkin reveals how to go deeper, allowing the Lord to remove things from your life that have hindered you so that you can become the full expression of God you were created to be.
Be Strengthened – A CD Teaching from Robert Hotchkin
The Lord has an amazing destiny for you – one full of hope, blessing and purpose. The enemy wants to steal that from you through discouragement, frustration, and intimidation. But God is greater, and He is well able to strengthen you and bring you into victory in every area of your life! As you listen to this powerful message from Robert Hotchkin, you will learn why the enemy threatens and intimidates, how to be strengthened in the Lord and come into all God has for you, and much more! Get ready to BE STRENGTHENED!
We at XP Ministries thank you for your prayers, partnership, and financial support. May you be richly and abundantly blessed. And remember, God loves you with an everlasting love!