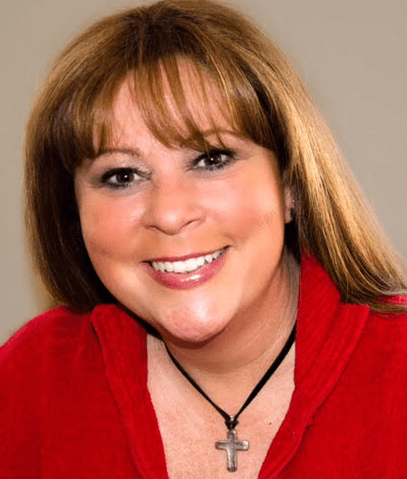 Dr. Michelle Burkett, PhD Christian Counseling/Psychology, has served as a seasoned ordained minister for over 20 years and has ministered to many in her private counseling practice for 15 years. Dr. Burkett has served faithfully with Patricia King for over nine years and is the Director/Administrator for Women In Ministry (WIMN). She has the joy and privilege of serving women in all kinds of ministry, combining their strengths to form a global network of women on the frontlines, advancing God's kingdom. Her passion is to breathe life into God's people, seeing them fulfill their dreams, potential, and destiny. This month, Michelle's devotion will encourage and challenge you to rise in your authority as a royal priest, align with God's heart, stake your territory and see the things that looked dead and hopeless bloom to life in a God-appointed suddenly.
The world is being set up for a move of God that has never before been seen! In this time of buildup, everywhere we look there are upheavals in nations, ongoing conflicts, unsettling political situations, racial discord, and economic concerns. While we look at these things with our natural eyes, in the midst of the tumult I hear the Lord ask, "What do you see?" The Lord wants us to be aware of what is happening in the world around us but to always remember that "greater is He" (1 John 4:4). In the coming days, do not be shaken by what you observe in the world. Instead, shake the world! Make your stand in the Spirit and watch – God will suddenly break forth in power to prove the truth of His promises.
He Will Perform His Word
God has put forth the question "What do you see?" before. When He asked this question of Jeremiah, he responded, "I see the rod of an almond tree" [blossoming in late winter]. God said, "You have seen well, for I am watching over My word to perform it" (Jeremiah 1:11, 12). In English some of the weight of this can be lost. In Hebrew the word for almond is very similar to the word for watch. What the Lord was doing was teaching one He had chosen to be His mouthpiece in that day to see past what was observed in the natural and see the faithfulness and certainty of who God is and what He has promised.
A People Who Move in His Power and Authority
Numbers 16–17 records another time of great shakings. There was a big shakeup in the camp of the Israelites. The earth had opened and swallowed up a rebellion, fire had consumed 250 of their renowned leaders, plague had purged another 14,700, and the people were still murmuring and challenging the validity of Aaron's authority as high priest. The leaders of all 12 families, including Aaron as head of Levi, thrust their rods in the ground. Overnight, Aaron's rod sprouted with buds, blossoms, and ripe almonds, confirming that he was God's chosen man, while the other rods were still just dead sticks in the sand (v 8). In the midst of all the chaos in the natural, the Lord suddenly established the authority and power of His people to make Him and His Kingdom known.
He can and will do it again. I hear God saying that as His royal priesthood, that same rod is in our hand because of Christ in us. We carry authority given by THE High Priest – Jesus, the branch of Jesse, who looked to be dead but rose from death unto full stature, bearing fruit (Isaiah 11:1). He is the Rod we carry.
Plant Your Rod and Watch It Blossom
Rise in your authority as a royal priest and see with kingdom eyes what God is doing in the earth. Stake your territory, put your rod in the earth – faith and authority aligned with God's heart – and see the things that looked dead and hopeless bloom to life in a God-appointed suddenly.
Prayer Directives
Let's pray and declare that:
Pray for the renewed identity of the church – blossoming and full of fruit. (Song of Sol. 4:7; Ps. 87:3; Eph. 5:27; Rom. 8:19–22)
Pray for vision, beyond the natural, into what God is doing in the earth. (1 Cor. 2:9; Eph. 1:9–10; Matt. 6:10; Hab. 2:14)
Plant your rod in prayer – stake out your territory in the Spirit, and partner with God. (Acts 10:38; Matt. 6:10; Num. 14:21)
Decree the promises that God has spoken over your life, your city, state, and country. (Matt. 24:14; John 10:10; Ps. 57:11 & 113:4–6; Isa. 37:20)
Want More? Then May We Suggest:
EYES THAT SEE – A book from Patricia King
Do you desire to see into the unseen realm? Are you longing to gaze upon Jesus and His Kingdom? Do you wish to be able to better discern what is going on in the Spirit all around you on the earth? Then you need eyes that see! This powerful book by Patricia King will help you lay hold of the spiritual sight that you have been given in Christ. You will see in Scripture that the Lord has opened your eyes, and you will learn simple and practical ways to begin practicing seeing in the Spirit. Jesus has given you EYES THAT SEE, and He has so much He wants to show you!
DEVELOPING YOUR 5 SPIRITUAL SENSES – CD/MP3 set from Patricia King
Have you ever wondered what God is doing, why He's doing it, or what it's all unto? It may not always feel like it, but God really is up to something in your life – something big! What you've been through, even what you're going through right now, is all part of it. You haven't missed the boat. You aren't going to be left out. As a matter of fact, God is getting ready to meet the cry of your heart in ways you couldn't even imagine. As you listen to these messages, discouragement will melt away; faith will be stirred; and weariness will disappear. You're about to experience a personal revival that will rocket you beyond your circumstances and launch you into the very midst of what God is doing!
PROPHETIC BOOTCAMP – CD Set and Manual from Patricia King and Robert Hotchkin
This is the prophetic made simple. In these lessons, Patricia King and Robert Hotchkin dig into Scripture and pull from years of experience to help you grow in your ability to hear the Lord's voice and connect with His prophetic flow. You'll discover the different ways the Lord speaks and the main ways you tend to receive from Him. You'll learn to recognize His voice and receive words of knowledge, encouragement and destiny for yourself and others, all while growing in intimacy with the Lord and awareness of Holy Spirit. The study manual contains all the scriptural references for the school plus pages and pages of activations so that you can put into practice all that you learn!
YOUR ARE GOD'S PLAN FOR THE HOUR – CD from Robert Hotchkin
The church is longing for God to bring revival. God is longing for His people to realize that He already has – through the finished work of the cross. He wants us to step out and use the authority He has given us to release revival everywhere we go! As you listen to this stirring message from Robert Hotchkin, you will come to understand what revival really is, how to step into the works Jesus did, how to overcome power and principalities in your region, and much more.