It's Time! – Pigeon Forge, TN
May 3, 2024

-

May 4, 2024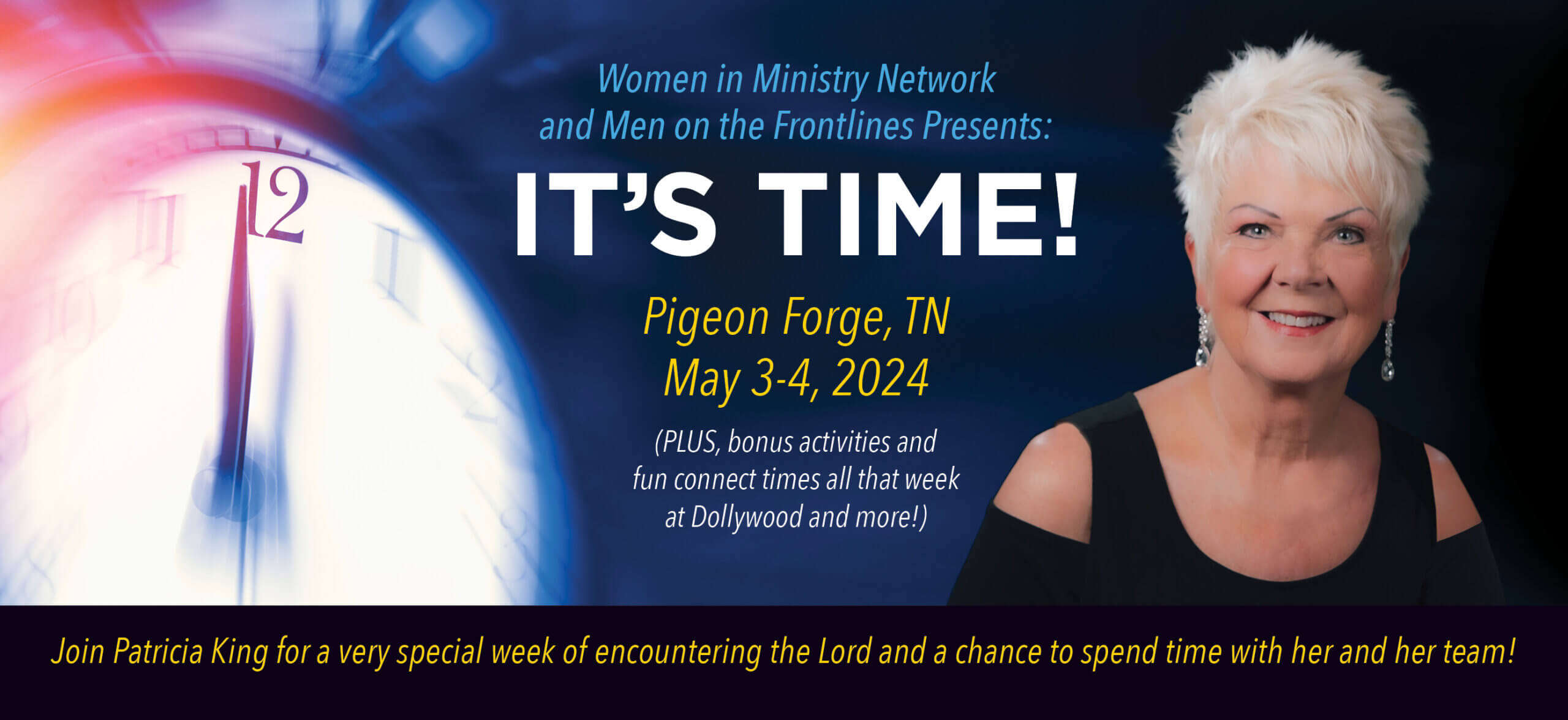 Patricia King & Men on the Frontlines Presents
It's Time!
We are living in a kairos time where God is calling women and men to arise together for such a time as this. NOW is the time to arise. NOW, is the time to shine… Will you answer the call to step into all that YOU are called to and positioned for in this hour? IT'S TIME!
It's Time for Breakthrough!
It's Time for Revival!
It's Time for You to Step into All You Are Called to!
An event for women!
Celebrating and equipping Kingdom women to launch out into new levels of favor, influence, authority, and impact!
An event for men!
Two days for men to be inspired and ignited so they can arise as the heroes and champions God created them to be!
All at the same facility!
PLUS bonus activities and fun connect times during the week at Dollywood, local coffee shops, and dinner theater with Patricia King and her team!*
(Ticket costs for extra events are not included in the registration fee).
Location
Summit Church
202 Sugar Hollow Rd #3271, Pigeon Forge, TN 37863
Date
May 3-4, 2023
Schedule
WIMN contact Michelle@WIMNglobal.com to register for special WIMN member meeting and main event.
Main Event:
Friday, May 3
7 PM – 9 PM – Opening Session with Patricia King
Saturday, May 4
9:30 AM – 12:00 PM – Morning Session
12:00 PM – 2:30 PM – Lunch
2:30 PM – 4:30 PM – Afternoon Session
4:30  PM- 7:00 PM – Dinner
7:00 PM – Evening Revival Meeting – Open to ALL
Cost
$50 per person*
$80 per couple*
*Extra activities at Dollywood, dinner theater, and axe throwing (men) are not covered by the registration.
Register Now
Airport and Ground Transportation
The closest airport to Pigeon Forge and Gatlinburg is McGhee Tyson Airport (TYS). Situated approximately 46 miles northwest of Gatlinburg and 41 miles northwest of Pigeon Forge, McGhee Tyson Airport (TYS) is the nearest major airport serving the region. It is located in Alcoa, Tennessee and provides easy access to both Gatlinburg and Pigeon Forge, making it a convenient choice for travelers visiting these areas.
Ground Transportation: Upon arrival at McGhee Tyson Airport, you'll find several ground transportation options to reach Gatlinburg and Pigeon Forge. Rental cars, shuttles, taxis, and ride-sharing services are readily available. Additionally, some hotels and resorts in the area offer shuttle services to and from the airport, so it's worth checking with your accommodation for transportation options.
Accommodations
---