May 2014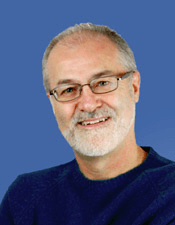 Dr. James W. Goll is the President of Encounters Network, the International Director of Prayer Storm, and the Founder of God Encounters Training – an eSchool of the Heart. He is an internationally respected prophetic voice, a prolific author, and an insightful teacher and preacher.  In this month's devotional, James shares keys on how we can always be on the cutting-edge with God; moving with Him in the earth in what He is doing and ready for what He is about to break forth!
The ebb and flow of revival throughout church history has often been compared to that of the tidal flow of the ocean. The tide comes in and goes out with subsequent waves of activity in between. Such it is with God's manifested presence and this wonderful thing called "revival," "the move of God's Spirit," and even "city transformation."
We don't want to settle in and passively become the stewards of the "best of the past." We must press into the heart of God and cry out for a fresh outpouring of His grace in our time! The question then can be asked, "What does it take to catch the next wave?" To begin answering that question, let's do a review by glancing at some of the classic characteristics of historic revivals of the past to learn some lessons in order to progressively move on.
Five Historic Characteristics of Revival
Let's start this journey by considering five overall characteristics of classic revival.
1. Passionate Denunciation of Sin
2. Revelation of God's Holiness
3. Deep Awareness of the Love and Mercy of God
4. Heightened Consciousness of Eternity
5. Experiential Conviction of Sin 
Three Preliminary Stages
There are often three simple preliminary stages of revival.
1. An Intense Hunger for Change
2. Prayer to God to Change Things
3. Networking Toward Unity
We can miss the major moves of God by not appreciating and participating in the little things in God. Do not overlook the days of small beginnings. Give yourself to the Lord and to His purposes in your generation.
How Did It All Begin for You, Anyway?
Do you remember what things were like when you first met Jesus? Or perhaps your new page came when you were baptized into or filled with the Holy Spirit or when you stepped into the river for the first time. Everything was new. Your Bible was new. Your heart was new. Worship was electric (even with guitars out of tune!). You saw nature through God's eyes. People were your moving targets for displays of the lavish love of God. All things were new.
Then you grew up. Perhaps you began to become hardened. Perhaps a spiritual leader hurt you. Perhaps you were part of a group that went into excess or even error. Maybe you have become a good observer today who sits and watches others at play and you give score cards on the latest sermon, prayer meeting, emphasis of the Holy Ghost or worship CD. And now, perhaps you sit on the sidelines and warm the seat of the scoffer.
The primary issue is the condition of one's heart. Yes, we must fight to maintain a childlike heart that trusts and believes and is awed by the moves of God's delightful presence. In the natural, in between the ocean's waves, there is often debris that is washed upon the shores. Then it becomes cleanup time.
Often it is that way in "moves of the Spirit" as well. It is fun riding the waves, but in between there can be a lot of junk to deal with. I have learned that is necessary to have both the delightful times and the mundane times. We do move from glory to glory, as He becomes the prize of our life and the object of our true heart's devotion.
As I have studied historic moves of God and even gotten out my spiritual surfboard to catch a few waves myself, I have found some common traits and cycles in Catching and Surviving Every Wave. So let me share a few of these survival skills with you to aid you in your journey.
The Beginning Is Characterized By:
Zeal
Fresh Faith
Counting the Cost and Not Looking Back
Then Between the Waves We Need to Walk In:
Forgiveness
Worship, Prayer and Devotion to the Word
Possible Realignment
To Be Able to Move On into That Which Is New, We Must:
Have an Awakened Heart
Cultivate a Love for Adventure
Have Anticipation
As We Posture Ourselves Properly, the Cycle Begins Again:
Zeal with Wisdom
Tried and Tested Faith
Looking Forward and Not Over the Shoulder
Let's Lift Our Vision Higher!
I challenge leaders around the world, wherever I go – to get God's view of their assignment. Come shoulder to shoulder with others in your area and just see what the Lord will do! Lock arms with other pastors, intercessors and marketplace leaders, and do something together for Jesus' sake!
The whole context of the teaching of 1 Corinthians 12 on the body of Christ is not set in the context of one congregation in one city. Remember, it says something like, "Can the eye say to the hand, I have no need of you?" Can charismatic hands of healing say to the evangelical shoes of the gospel of peace, "I have no need of you?" The Calvinist needs the Arminian and the Pentecostal needs the Liturgical! We really do need one another to exhibit the fullness of God's love.
Heaven help us to identify the redemptive gifts of God found in each of the tribes of the Lord's body and learn to cooperate with one another! And let us learn to catch and survive every wave of God's amazing Spirit in Jesus' name!
We need You, Holy Spirit, to teach us Your ways. Guide us in the path of ever increasing faith, hope and love for Jesus Christ's sake. Help us to learn from the past and yet receive the next crashing wave of Your great presence today. Thank You for teaching us and guiding us into some of the lessons on how to catch and survive every wave in Christ's name! Glory to God! Amen and Amen!
 Blessings to You!
James W. Goll
www.EncountersNetwork.com
www.PrayerStorm.com
www.GETeSchool.com
Resources
Want more? Then may we suggest these new resoures by James W. Goll:
Living the Supernatural Life – Book is a Biblical discussion on how every believer can operate in the Holy Spirit as Jesus did.
Many people have heard reports of healings, miracles, and other manifestations of the Holy Spirit's power but aren't sure what to make of it all. Are signs and wonders something God intends for all believers? LIVING A SUPERNATURAL LIFE is a challenge for all Christ-followers to become more like Jesus in character and action, totally dependent on the Holy Spirit. By living as Jesus did, the author contends, Christians can witness God's Kingdom coming in power against the kingdom of darkness – often in miraculous ways. New and veteran believers alike will understand the "why" of signs and wonders and discover what is means for their pursuit of Christ.

Walking in the Supernatural Lifestyle – Study Guide complements James Goll's book Living a Supernatural Life. Do you want to grow in a supernatural lifestyle of both fruit and gifts? James W. Goll weds together a depth of the Word with a flow of the Spirit that will ground and challenge you to live in the fullness for which God has created you. Topics include: The God Who Never Changes, Tools for the Tool Belt, Finishing Well, and much more. You can live and model a supernatural lifestyle!
This study guide is great for individual study in your own home, with a small group, or in a classroom setting. As you work through these sessions and put them into practice, you will discover the joy and freedom of life by the Spirit.
The Lifestyle of a Prophet – Book  is a 21-day journey to embracing your calling… 

Join respected prophetic leader James W. Goll for an incredible journey into the heart of the prophetic calling. This unique, hands on 21-day guide will help you develop the intimacy with God essential to hearing His voice clearly. Reflection questions, devotional prayers, and practical applications will help you proclaim His words faithfully – and step boldly into your calling…
We at XP Ministries thank you for your prayers, partnership, and financial support. May you be richly and abundantly blessed. And remember, God loves you with an everlasting love!